Increasing

aircraft
stand
 capacity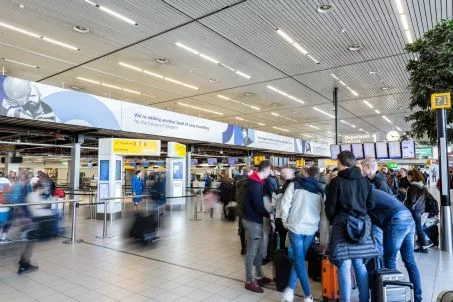 With the increasing pressure to reduce flights, Schiphol International Airport sought new ways to grow in capacity without reducing passenger numbers. Offering aircraft stands for planes which hold more seats is one way of doing this. Creating space for larger planes on existing aircraft stands calls for creative minds with in-depth knowledge of the total aircraft handling process.  
Schiphol International Airport is one of Europe's largest airports, handling over 70 million passengers per year. In order to maintain their position as one of the leading airports in the world, it is essential to provide an efficient operating and satisfying passenger experience. 
Larger aircraft: Reducing Queues  
With the increasing pressure to reduce the number of flights, larger aircraft would need to be accommodated at four aircraft stalls and a relevant bus stop point. In redesigning these stands the issue of reducing queueing became apparent on the south side of Schiphol's D-pier. Deerns came to the rescue by simulating queueing drawing from prior experience.  
Variant study
Operations needed to continue and Deerns designed a temporary solution exploiting existing apron services requiring minimal investments. The bridge head of D4 was modified for the installation of category 7 aircraft. Another stroke of genius was the simple adjustment of entry lines to avoid  major terrain changes. The adjustment of the number of waiting places per stands in the terminal was carried out in a parallel project. Ideation through to commissioning took less than 18 months.
Final design
The final design concept enabled quicker connecting of passenger bridges to the aircraft. This is of great value at Schiphol, where approximately 2,800 operators work on the stands for smooth aircraft handling. This shorter connection time decreases turnaround time enabling 1,800 additional flights per year. The layout and connection of the passenger bridges was created in line with the concept of fixed section, vestibule, rotundas and two fast-connecting passenger bridges. Deerns played an important coordinating role with the largest user, KLM and the various airport organizations, the architect, civil advisor and the constructor.  
Simulations
Simulations for entry and pushback of the aircraft enabled effective positioning of facilities and bridges. Service vehicle manoeuvres were also simulated. Per stand, 30 different types of devices were assessed for safety, efficiency and connection to the fuel hydrants and other apron services. The site on the south side of Pier D is now integrally geared to the various handling processes, such as baggage handling, catering and fuel refuelling. Schiphol airport as passenger friendly as can be. 
"

Deerns provides solutions for integrated airport systems which offer operational efficiency hand in hand with a positive passenger and staff experience. Our design optimised limited space to accommodate larger aircraft as well as quick turn around times. 
Matthias Pöter
Sector Director Airports