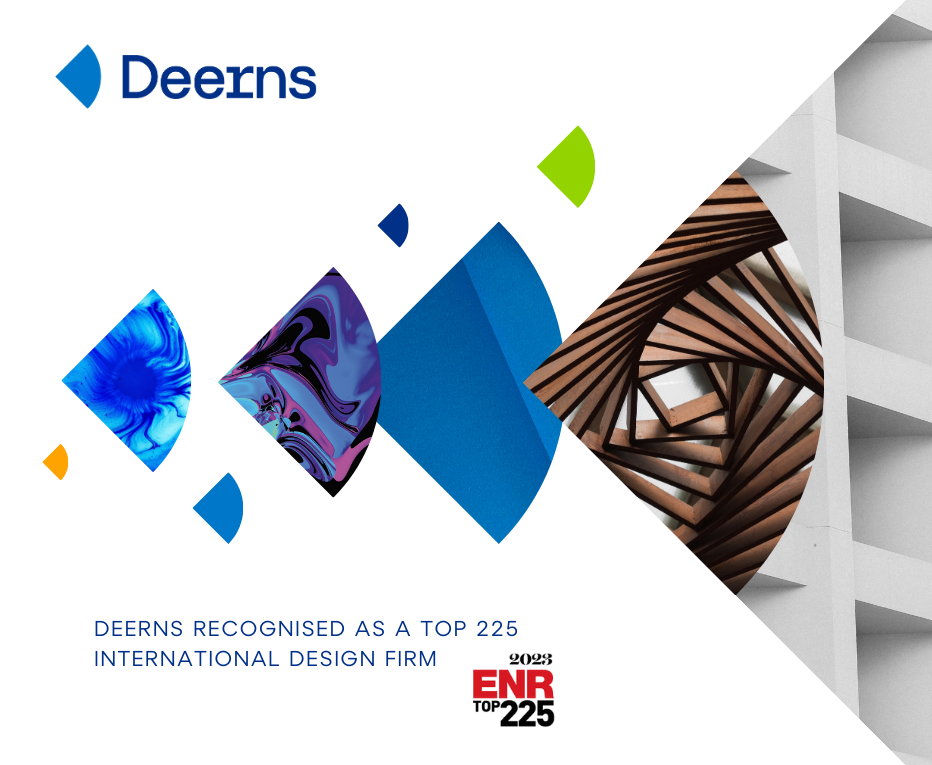 Deerns, a leading multi-national consultancy and engineering firm, is listed in the Top 225 International Design Firm Rankings published by Engineering News-Record (ENR) for the second consecutive year.
The Hague, 21 August 2023. ENR's 2023 rankings reflect design-specific export revenues generated from locations outside a firm's headquarter country location for the period between 2021 and 2022 – a time which many view as a "pivotal moment" for the construction industry worldwide.
Over this period, the urgent need to respond to climate change through energy transition and decarbonisation has generated a strong shift towards sustainability, particularly amongst large-scale companies. The result has been an increase in demand for engineering services focused on the delivery of integrated sustainable solutions.
Across all sectors, Deerns has an extensive portfolio of completed projects that address climate change concerns through emissions control, energy transition and decarbonisation solutions. Our work on Smart integrated building and infrastructure systems has also established Deerns as a leader in operational efficiency, sustainability and future proofing.
There has been a sharp increase in client demand for services related to sustainability and net-zero carbon solutions. Clients are finding value in our combined knowledge in processing, environmental, and sustainability consulting services.
Deerns stands out from its competitors due to its strong engineering expertise in the markets it serves and its in-depth understanding of each client's specific needs. Data centres, and hyperscale facilities in particular, require highly specialised solutions. Deerns' extensive experience in this sector allows us to cater for the evolving needs of data centre owners and operators. In addition to the data centre, we also have an established portfolio for major clients in the micro-electronics, high-end real estate, healthcare, life sciences and airport markets.
Deerns' presence in the Top 225 International Design Firms Listing in 2023 is evidence of our success in delivering tried and tested solutions to complex problems, and developing innovative and cutting-edge solutions when new challenges arise. The momentum of our success is built on the enthusiasm and commitment of our exceptional engineers and specialists in our offices across the world and their deep commitment to providing solutions that not only serve the present but ensure a sustainable future.