Creating a

sustainable
building
for
a
sustainable
b
ank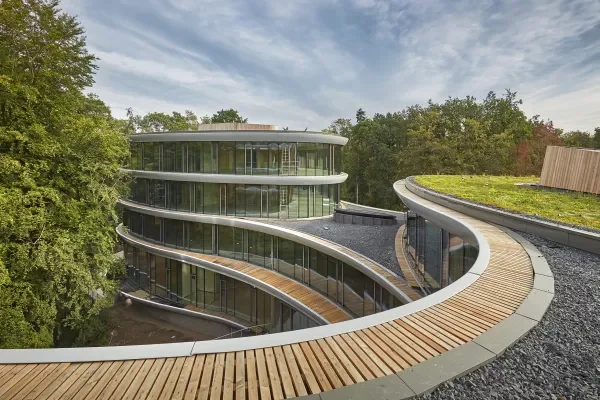 When Triodos Bank, a leading expert in sustainable banking, needed a new head office, a future-proof design was key. Triodos Bank set very high sustainability and quality standards for the new building. The ultimate challenge? Creating one of the most healthy, circular and sustainable office buildings in the world. This entailed an ecological design for full disassembly at end of asset life. 
Leading expert in sustainable banking
A
leading expert in sustainable banking
,
Triodos
Bank
has its
head office in the Netherlands
and is
active in five European countries
.
It offers a
range of banking and financial services to savers, investors and entrepreneurs
who want to change the world for the better.
By connecting these groups,
Triodos
Bank is building a community of people
sharing a
desire to make a positive impact on society, culture and environment.
When
Triodos
Bank Nederland and
Triodos
Investment Management had to look for new and more spacious head office, their eye fell on
estate
de
Reehorst
next to
Driebergen
-Zeist station.
In line with their
strategic
ambitions,
Triodos
Bank
set very high sustainability and quality standards
for
their new head office
in the Netherlands
.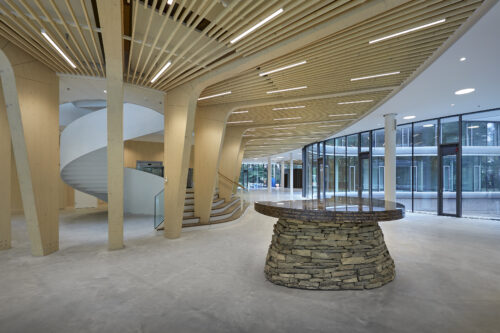 An energy and carbon neutral office for Triodos Bank
Energy and carbon neutral office
Triodos Bank wants its new headquarters to be energy and carbon neutral as well as being designed for full disassembly at end of asset life. The new build plans provided for an office building of 12,500m² in an open space close to the surrounding forest area. Nature and ecology are central to the design by Dutch architect Thomas Rau, a front runner in the international debate on sustainability, resource scarcity and the use of renewable energy in architecture. Rau designed an ecological and transparent office using biomimicry natural design elements. The building's shape is adapted to the flying routes of birds and bats. Its three towers include sustainable wooden construction covered with green roofs and encased in an all-glass facade.  
The challenge for Deerns was to realize this design with plenty of daylight and a pleasant indoor climate while achieving an energy and carbon neutral building.  
Trailblazer in Smart Circularity
Triodos Bank and Deerns are founding partners of the entrepreneurial initiative 'De Groene Zaak'. Now part of MVO Nederland, its aim is to influence the Dutch political establishment in matters of sustainability. Over time Deerns has established an excellent reputation as a trailblazer in creating smart circular projects and is the reason for our inclusion on the Triodos project team.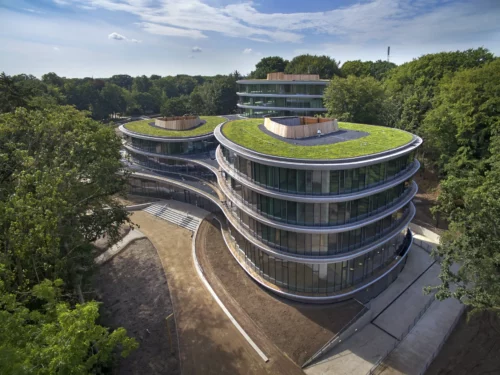 The Triodos Bank Head office received the BREEAM Outstanding certificate with a rare high score of 94%
Energy-positive building
An energy neutral building is already a significant achievement. An energy-positive one is quite another.  Through a design for two small efficient heat pumps rather than one, Deerns added more value to Triodos' vision. The sustainable energy generation system designed by Deerns consists of underground thermal energy storage, heat pumps and 3,300m² of solar panels on the parking garage roof. These supply electricity to the building and to 120 smart bi-directional car battery charging stations.  
To ensure that the building usage is energy neutral, it is crucial that the energy demand is reduced as much as possible. Deerns designed user-driven installations to supply the building with air, light and water. Smart installations were deployed with thousands of sensors ensuring that energy for the LED lighting and climate is only used when required and conference rooms appear as available when no presence is detected. 
Careful coordination between all members of the project team was essential in order to minimise energy consumption. For example, the architect wanted completely glazed facades, which would have a negative effect on the indoor climate. As a compromise, Deerns proposed sun protection to offer the transparency in the architect's design and to reach the desired indoor climate. 
Outstanding BREEAM score
The Triodos Bank head office is now one of the most sustainable office buildings in Europe. Approximately 600 people can enjoy an optimal balance between sunlight and shadow, accommodated in this energy and carbon neutral building. Triodos headquarters received numerous awards, including the BREEAM Outstanding certificate with a rare high score of 94%. The design contributes to a vital transition in the building industry based on the principles of a Circular Economy and Resource Efficiency. 
"

When look back on the process with a good feeling I am most proud of the overall final design which is very complex and also very satisfying. The high BREEAM score is an achievement and the joint effort of the entire design team.
Lucien Engels
Project manager