New Security Equipment:

Turning down heat and power demand
In a large-scale upgrade of detection equipment for hand luggage, conventional X-ray machines of all Non-Schengen departure and transfer points were replaced with new generation CT scanners at Schiphol International Airport. These CT scanners provide highly detailed 3D images for easier detection of hazardous substances and objects. The passenger experience is improved and traffic flow increased since passengers can leave their liquids and laptops in their luggage.  
International Airport
Schiphol International Airport is one of Europe's largest airports, handling over 70 million passengers per year.
I
n order to maintain
its
position as one of the leading airports in the world
, it is e
ssential
to provide an
efficient operati
ng
and satisfying passenger experience
.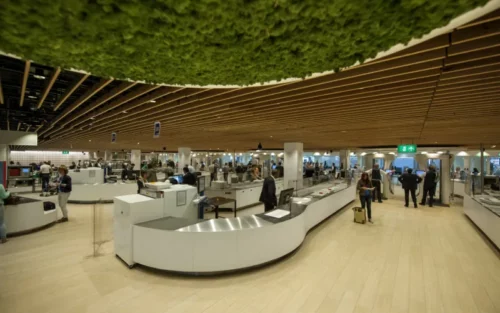 Amsterdam Airport Schiphol: New security equipment which is turning down heat and power demand 
An effective security system
Technology performance  is under the spotlight when security staff need to act flawlessly in an intensely busy environment. The comfort of their work environment directly affects their performance, effectiveness and efficiency, impacting overall security.  CT scanners have a high heat output negatively impacting indoor climate. Other challenges were the increased demand on the electricity grid and the transportation of the large scanners from floor to floor. Deerns could come to the rescue based on our experience in designing the renovation of the security screening area. We could quickly suggest solutions per security screening area using existing installations and space. 
Concept solutions
Cooling the space with additional systems proved to be a workable in this context. We drew up a matrix to compare the effectiveness, costs and suitability of different cooling systems. The optimal  solution was designed for all security points and captured in work memorandum which gave the contractor a quick starting point from which to execute the project.
Result
Alongside the heat analysis, Deerns worked resolving the recurring power outages incurred by the addition of these CT scanners. Security and other operations were severely impeded. Through our we analysis we suggested improvements on skewed loads, adjusting security settings on distributors and applying active harmonic filters in the technical areas near the security points. All in all, we provided a fit for purpose solution, tailor made for every location, taking into account the existing installations and space constraints with the best achievable comfort as a result. 
Airport Building Services
Deerns delivers sustainable, comfortable and safe airports and is a leading engineering firm in airport processes and systems. We offer airport operators and architects with an integral approach that results in efficient, reliable, cost conscious and future proof mechanical, electrical and plumbing (MEP) design.