Meticulous experiments ensuring the perfect blend of nutrition, taste and health are top of mind of food research and taste teams working in biotech labs. Top of mind for Deerns is design and engineering labs boasting state-of-the-art clean rooms for the highest standards of hygiene and accuracy. This requires highly flexible facilities with adaptable modular installation design to ensure that clean facilities and collaborative working space meet the exact needs, requirements and turnaround times.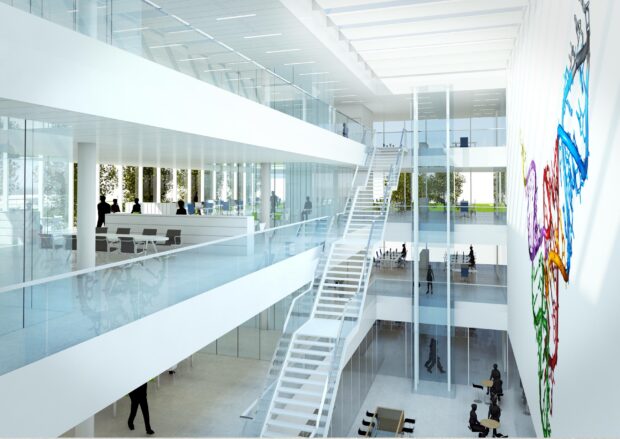 Working across multiple sectors – food and nutrition, feed, fuel, pharma and bio-based materials – and with operations in multiple countries, DSM uses all the scientific and innovation power at its disposal to tackle some of the world's greatest challenges.
The company undertakes biological sciences to develop nutritional solutions for feeding a growing population more sustainably; and transforms raw material into molecular building blocks as the basis for innovative products. In addition, DSM's biomedical materials capabilities help produce some of the most advanced biomedical materials and regenerative medical devices in the world.
"

DSM Lab 6, Delft, The Netherlands. Here's where ideas flourish, boundaries fade, and culinary innovation takes centre stage.
A Futureproof, Sustainable Facility
For their new building, DSM sought to integrate a wide range of functions – biotechnology laboratories, GMP (Good Manufacturing Practices) labs, offices and a conference centre – into a flexible and transparent building with an internal environment that supports the productivity and wellbeing of users.
The new laboratory replaced a one that was small, outdated and no longer met the requirements and needs of the client. DSM required a consolidated building to house its former Lab 5 staff as well as other users of DSM's facility in Delft who would be part of the new Biotechnology Centre, known as Lab 6. These include startups, scale-ups, established companies and knowledge institutions. In total, Lab 6 needed to accommodate over 400 research and developments experts.
Technologies in the life sciences sectors are evolving rapidly and becoming ever more complex. For this reason, innovative futureproofing solutions for DSM's cleanroom production processes were a priority. In addition, it was imperative to define a sustainability programme that aligned stringent local and regional regulations and client policies with the proposed solutions.
Life Sciences Expertise
Deerns was commissioned by DSM to undertake all technical aspects of the Lab 6 project. Deerns ensures that cleanroom facilities are optimised and comply with stringent regulations and local design codes for Labs, research and manufacturing facilities. The starting point for this process is a thorough understanding of the client's needs and expectations. In addition, sector-leading cleanroom specifications can only be achieved by combining the expertise of specialists in numerous disciplines functioning as an integrated design team.
Collaborating for Sustainability
Deerns collaborated closely with DSM's engineering, research teams as well as the architect to achieve optimal logistics, effective integration of specialised areas, and highly efficient process and people flows. Deerns also worked closely with the building users, who know the work processes best, to design the layout and interiors of the laboratory.
Working with Deerns, DSM was able to commission its new building using energy-saving techniques with ambitions of receiving a Building Research Establishment Environmental Assessment Method (BREEAM) 'Very Good' certificate. Although no specific BREEAM requirements for Lab 6 existed, Deerns' design team defined sustainability targets based on the BREEAM methodology to ensure that appropriate measures were incorporated in the process.
An open plan environment, together with the glass facade, allows for ample natural lighting and views – enabling a pleasant and productive work environment during long winters
Based on the angle of sunlight into the building, energy performance requirements and the strict indoor temperature requirements, Deerns designed a 25% closed façade to ensure the indoor environment was naturally cool, saving on power for heating, ventilation, and air conditioning systems.
Designing for the Future
The new 13,800m2 Lab 6 building is a multi-purpose establishment, incorporating a wide range of functions, including laboratories, cleanrooms, offices and a conference centre in a highly flexible and contemporary building where innovation, sustainability, business and research come together.
Deerns was responsible for all technical aspects of the project including engineered and plumbed systems, electrical components, IT infrastructure, security, mechanical and control systems, HVAC (Heating, ventilation and air conditioning), transport and process utility systems. Also, technical and financial feasibility were checked in the design phase.
The quantity and quality of the technical installations undertaken by Deerns were based on a careful analysis of the current and future laboratory requirements. The set-up of the installations was compact and prepared for future modifications, thereby preventing unnecessary over-sized installations with high investment costs. Full operation of Lab 6 started in October 2016
Lab 6's office and laboratory spaces were designed with future organisational requirements in mind, with the flexibility to easily change between these functions.
Let's talk on how we are reshaping the future of controlled environments and dynamic open spaces to ignite scientific breakthroughs.