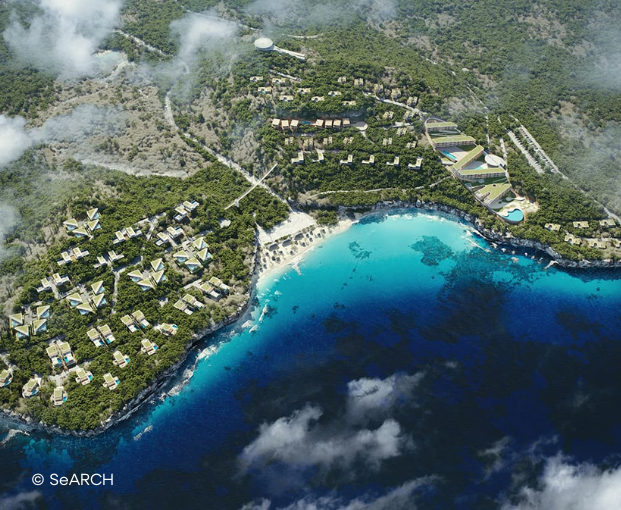 Located on the west coast of Curaçao island and now in its final design phase, the Cas Abao Resort aims to be energy-neutral, a unique ambition in this region for a development of this size.
Deerns is the mechanical, electrical and plumbing (MEP) consultant on this high-end project to ensure the sustainability of the Cas Abao Luxury Resort. This is on the back of Deerns' involvement in the preliminary design phase of the resort commissioned by developer MXL Vastgoed and designed by SeARCH Architects. Together with local Curaçao partner BTE Consultancy, familiar with local standards, regulations and ways of working, Deerns is also handling the project's fire safety, building physics and acoustic requirements.  
The resort comprises two core elements organised across a steeply sloping site – an 8,148 m2 hotel with sixty hotel suites situated close to the main hotel building, plus a restaurant and café; and fifty villas spanning 12,076 m2 in total. Site clearing and infrastructure development work are underway, and the final design is expected to be finalised by September 2023.
Prioritising

Resource Efficiency
Cas Abao Resort aims to be energy-neutral
Energy-neutral ambitions make the resort the epitome of sustainable construction with numerous resource efficient and renewable measures being applied across the site. While a new municipal connection was necessary for this remote location as a backup energy supply, these energy efficient and renewable systems need to meet the demands of the hotel and villas. 
ENERGY
A substantial solar photovoltaic installation will be implemented in two parts: 
 A 490kWp installation will be built on the roofs of the parking bays next to the hotel

 

230kWp installation will be built adjacent to the villas.

 
Energy generated during the day will be stored and used at night via a Li-ion battery will with an energy storage capacity of 3100 kWh, equivalent to that of sixty-two electric vehicles.  
WATER
In terms of water consumption, the overall strategy is to supply water of superior quality but not necessarily for drinking. For this purpose, sea water will be purified using a reverse osmosis system. In addition, grey and black wastewater from the villas will be purified and, together with captured rainwater, will be pumped to a central location and used for irrigation.
Insulation and indoor comfort responds to the environment
To accommodate the eight-storey hotel on the sloped site, the entire terrain was digitised to establish accurate heights and dimensions. The villas will also respond to this topography, and four distinctive designs have been developed that prioritise privacy for guests. 
Sanne de Groot, Senior Technician Sustainability at Deerns, says that the villas are uniquely positioned with sea views and integrate naturally into the environment with green roofs that will be planted with vegetation similar to the surrounding terrain – a feature that assists with energy efficiency through insulation. 
Peter Buurman, Strategic Sustainability Advisor at Deerns, adds that the villas' living rooms have been designed to take full advantage of the consistent prevailing wind from the east, allowing adequate cross ventilation for these spaces instead of mechanical ventilation. He says, "We motivated for higher internal temperatures because there is a good wind regime in the area, so natural ventilation will be sufficient to cool the interior spaces and will contribute to a good indoor environmental quality (IEQ). Spaces will also be shaded and passively cooled by wide overhangs. The bedrooms will be mechanically cooled and insulated with low solar transmission double glazing and wall insulation, providing insulation values that are higher than usually specified on the island." 
In line with the development's drive towards sustainability and decarbonisation, local building materials have been selected as much as possible to minimise the energy use incurred during production and transportation, and to give local contractors the opportunity to work with familiar technologies. This includes locally manufacturing concrete blocks that will be used for building the walls, which will also contribute towards the thermal mass of the structures. 
Here's where we respond to a Unique Context
With its energy-neutral ambitions, Cas Abao Resort sets a unique standard in the region. By incorporating renewable energy systems, water purification technologies, and locally sourced materials, the project successfully demonstrates how high-end developments can prioritise both luxury and environmental responsibility.